What are team building activities? Team building activities are about improving relationships within a team.
They also help to define roles and establish people within a team. Team building games and exercises will revolve around collaborative tasks, often challenges, that encourage teamwork and cooperation.
The benefits of Team Building
The overall aim of team building exercises is to improve team-based performance in your business. But, it's also about creating a more fun work environment by bringing your team closer together.
Team building games help to motivate your team and help them develop their strengths as individuals and as a group. It also allows management to see who works well in a team and who takes the lead during team building exercises. That's why team building games must focus on co-operation over competition.
Great team building exercises may have a competitive element, but it won't be the primary goal. Co-operative team building exercises will help to develop your staff's teamwork skills without the pressure of serious competition.
This encourages people to take the lead who may not normally do so while improving important workplace skills such as communication, critical thinking, and problem-solving.
Why Northampton?
Northampton is one of the most vibrant county towns in the UK. Located in the heart of the East Midlands and England, it's a growing town with plenty of exciting activities to explore.
Northampton is found on the River Nene, which gave it transport links across the country throughout history.
Northampton continues to be highly accessible today with excellent routes to and from London, as well as the rest of the UK. Its train station has lines across the country and the town is just off the M1.
This is one of the reasons why Northampton is an incredible destination to host your team-building event. But, the most important thing to look for when booking a team building event is a great team building venue in Northampton…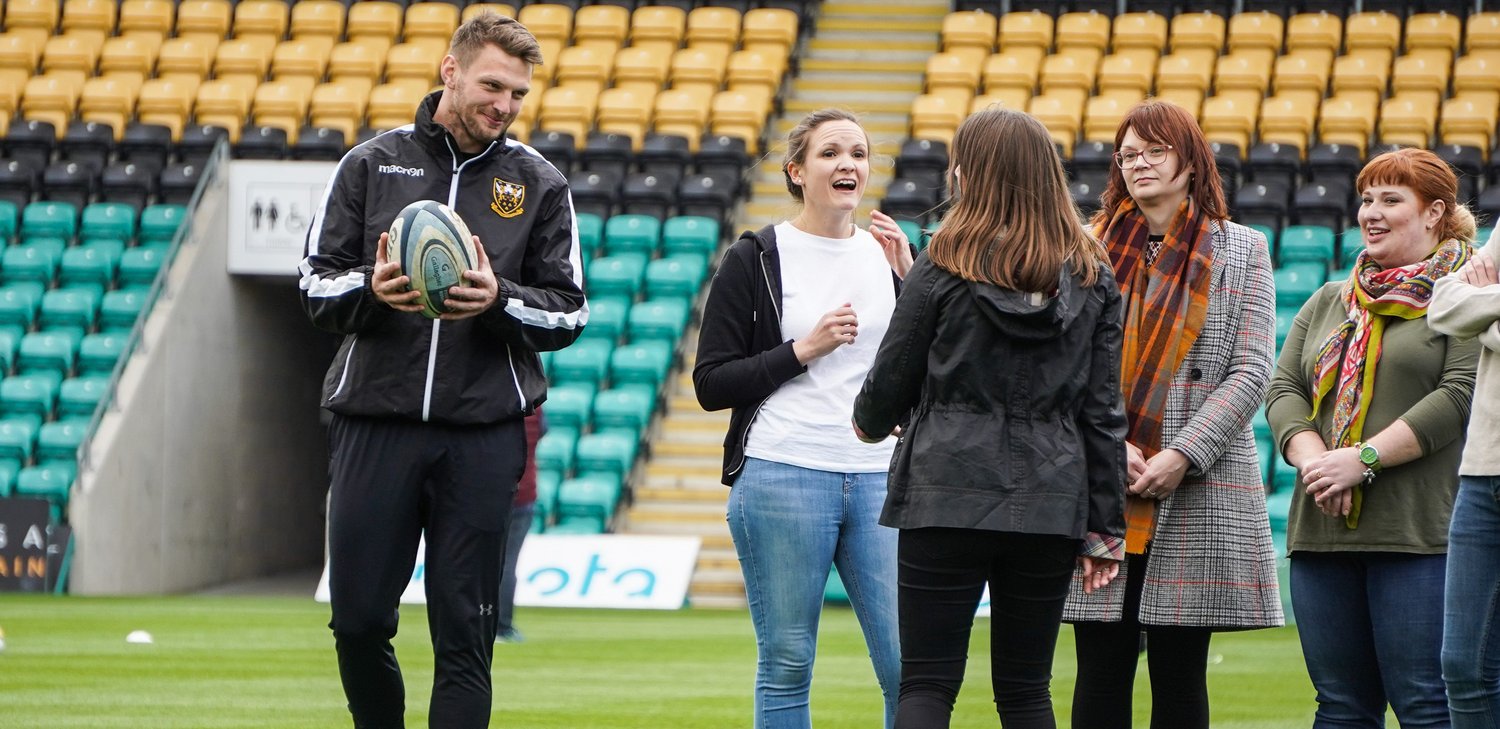 Team Building activities in Northampton
cinch Stadium at Franklin's Gardens is a unique team building venue in Northampton. As a sports stadium, the home of Premiership Rugby's Northampton Saints, we have a variety of different rooms and spaces – from large outdoor spaces perfect for outdoor team building events, to indoor facilities set up specifically for your team.
Outdoor Team Building activities
Our outdoor venue spaces include the team's training pitches and the Saints Supporter Village.
The club's training ground pitches are an ideal and unique team building venue for exciting events. Our team will work with you to create an unforgettable and highly beneficial day for all your staff.
Using our training ground pitches gives you flexibility over the team building exercises you want to do – charity games, festival-themed events, and large team building events with friends and family as guests too are all great ideas.
We aim to build an event that is right for you and your team. Our training ground packages include:
Exclusive access to VIP areas including player changing rooms.
Delicious and convenient catering choices
First team player appearances
The Saints Supporter Village is also a multi-faceted corporate space perfect for unique outdoor team building games. Your team has access to bars and food trucks, a stage, and a big screen, as well as access to the training pitches and the Franklin's Gardens pitch.
What you want your team building exercises to be is up to you, but you can rely on our facilities to help you to host the best team building event possible.
Indoor Team Building exercises
We offer a variety of different indoor rooms that are ideal for team building activities. This includes conference rooms that fit up to 600 people or smaller venues that provide an intimate atmosphere for a small team.
Our unique team building venue in Northampton offer bars, different seating for your event needs, and specialist conference equipment if necessary. We will help you to host the ideal team building event in Northampton that will most benefit your team.
You know your staff and what your business needs more than anyone. Whether its adrenaline-fuelled outdoor events with obstacle courses or after-dinner team building games to keep the party going into the night.
At cinch Stadium at Franklin's Gardens, we have the ideal venue. And our dedicated team will work with you to help you host a fun and motivating team building event in Northampton.
If you want to reward your staff with an away day or organise a 600 person conference, cinch Stadium at Franklin's Gardens is a fantastic choice of venue in Northampton. We have experience hosting events for both small businesses and multinational corporations.
To book an unforgettable day at a great team building venue in Northampton with us or find out more, get in touch with our team today. Give us a call on 01604 751543 or please feel free to fill in the enquiry form on our Contact Page.