In the UK, the government has asked everyone to work from home if they can. This is to slow the recent rise in coronavirus cases. But while a lot of companies can work from home, it can be difficult to stay connected as a team.
Keeping connected is so important for a company. Leading a remote team can be a challenge. You need ways of communicating effectively, boosting morale, and completing work on time. Many people leading a remote team have been asking, "how do I do this?"
Even employers with experience having staff work remotely will find this time challenging. The coronavirus pandemic is causing mental health issues for a lot of us. That's why keeping connected is more important now than ever before.
In this blog, we'll explore how to keep your company connected, starting with team building activities and exercises.
Team building exercises & activities
Why do you need to stay connected as a business? To increase productivity, improve morale, and optimise the efficiency of your workplace.
The best way to do this is to have a happy team who all get on with each other. Achieving this will improve communications and productivity, which in turn will massively benefit your business both now and post-COVID-19.
With the right team building activities, you can not only keep connected but also grow as a team. They can help you to create and keep strong social connections.
Team building activities can be used whenever you need them and all year round. They can help your team if they're feeling isolated or struggling in the current times.
A lot of these activities will work in-person and virtually. Let's explore some of the most interesting team building exercises…
ZOOM QUIZZES
Yes, the infamous Zoom quiz. Love them or hate them, Zoom quizzes can be a great way for everyone in your team to have fun chatting. Like a lot of team building activities, it acts as a conduit for people to have a laugh together and bond.
To stay connected while working remotely you need two things. A way of communicating virtually and, most importantly, having fun. Whatever team building activity you decide is right for your company, make sure everyone can join in and will get something out of it.
VIRTUAL BRAINSTORMING
Team building can take the form of a work activity. If you're managing a remote team, consider bringing your staff together to share ideas. This can help different members of your team to grow in confidence.
Confidence is something that people could struggle with while working from home as they get used to communicating virtually.
Brainstorming virtually will benefit your business in the short term and long term. You will create and develop new ideas for your current projects. In the future, your team will be more confident and have more experience working together.
REMOTE LUNCHES
If people in your team are up for it, why not take lunch at the same time? Work responsibilities permitting, the more staff the better. You can help replicate the atmosphere of the workplace.
Imagine your office. What do you miss out on while working from home? It's the little chats you have in the kitchen and while moving between desks. Taking remote lunches as a team can help bring some aspects of your workplace you love back.
Team building venue in Northampton
Those were some remote team building ideas. But what about when restrictions are eased?
When COVID-19 is a distant memory, we'll have hopefully all been back in the office for a while. But when we come out of lockdown and all restrictions are eased, how will your company reconnect?
Unfortunately, the events of 2020 may mean that people haven't met their work colleagues in person for many months. So, when it's safe to do so, you need to bring everyone back together.
Franklin's Gardens is a unique team building venue in Northampton. When it's safe for your team to come back, we'll be ready.
Corporate team building is a great way for staff to connect and reconnect. But to get the most out of team building activities you need a great venue – that's why Franklin's Gardens can help boost your business.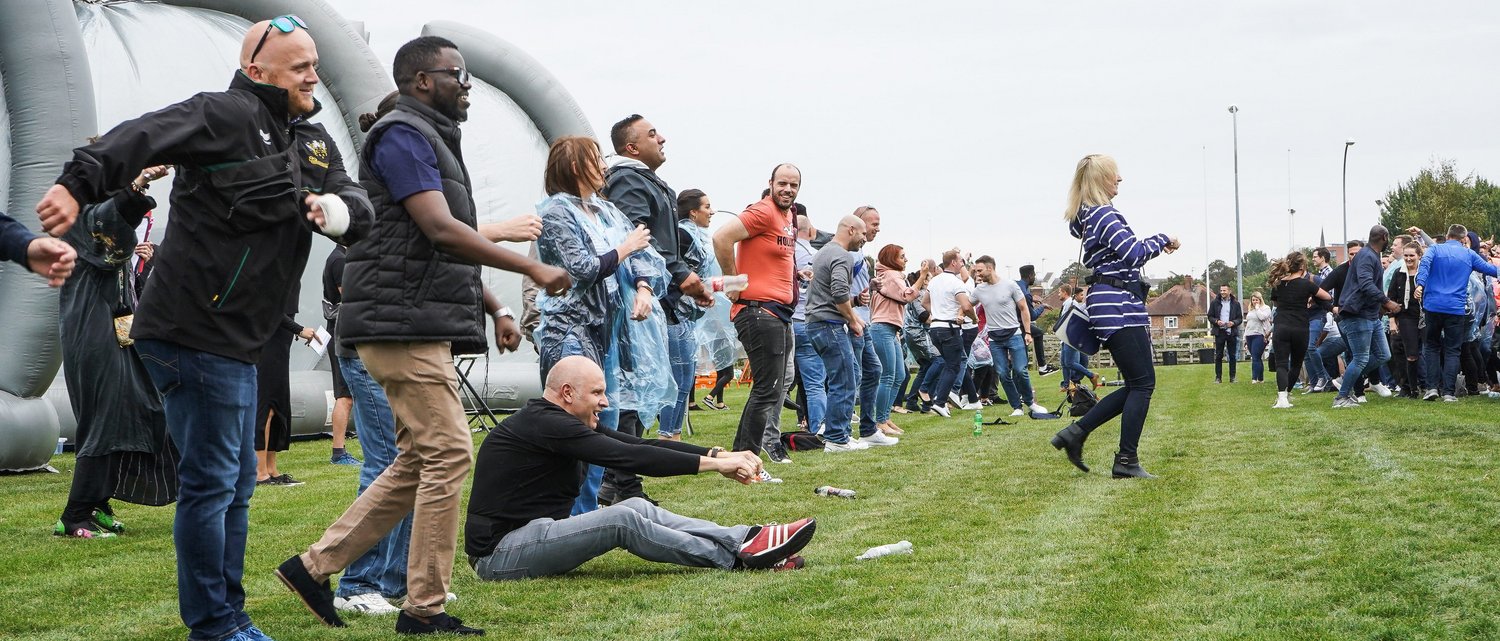 At Franklin's Gardens, we offer a unique and dynamic venue, perfect for team building and away days. Whether you want an indoor team building day, or to make use of the Saints' training pitches, we have a variety of options for you to choose from. If you need inspiration, our events team is here to help.
We can help you to organise a team building day that is affordable, fun, and benefits your business. Cohesion is a crucial part of any team. And with a team building venue, your team can take part in activities that connect your staff.
Even now, when there are restrictions on events, our team is working behind the scenes. This is why we'll be prepared to reopen, whenever that may be.
When team-building events are allowed again, you can trust that our team building venue in Northampton will be safe. And will also give your team a great day out they won't forget.
To book an unforgettable team building day with us or find out more, get in touch with our team today. Give us a call on 01604 751543 or please feel free to fill in the enquiry form on our Contact Page.